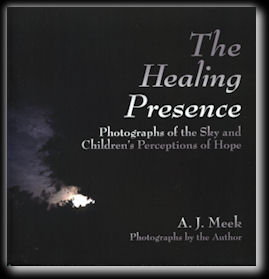 The Healing Presence, Photographs of the Sky and Children's Perceptions of Hope Paperback
Sunstone Press
February 10, 2014
Do images heal? Yes they do. That is the thesis of renowned photographer A. J. Meek with these photographs of the clouds paired with children's perceptions of hope. ''The feeling of freedom is exhilarating,'' Meek says in his photographer's comments for the work contained within. ''The total package of sky and children's perception is designed to evoke a positive healing attitude within the viewer. When studied and meditated upon, the audience cannot maintain a negative thought.''
For more information and the view photographs form this book, click here.
---

Sacred Light: Holy Places in Louisiana
University of Mississippi Press
September, 2010. Essay by Marchita B. Mauck 112 pages (approx.), 9 x 11 inches, 88 color photographs

Renowned photographer A. J. Meek takes the novitiate on an inspired visual journey with eighty-eight color photographs of the interiors of churches and synagogues located in south Louisiana, mostly along the lower Mississippi River valley. Tourists may crowd the famous European cathedrals such as Notre Dame in Paris and Westminster Abbey in London. Yet the splendors of local churches in America all too often remain cloistered and unheralded. Meek's beautiful photographs correct this oversight for Louisiana, a state that features a great many beautiful and long-standing holy places.
For more information and the view photographs form this book, click here.
---

Clarence John Laughlin, Prophet Without Honor
A. J. Meek, with a foreword by John H. Lawrence
University Press of Mississippi, January 2007, 208 pages (approx.), 7 x 10 inches, 45 b&w photographs, foreword, chronology, index
A. J. Meek looks into the controversial life of one of the greatest photographers in American history. Through interviews with Laughlinís colleagues, friends, and family, the author details the tumultuous connection between the struggles of the artistís life, including strained working relationships and failed marriages, and the work that brought him professional fame.
For more information, click here.
For reviews, click here.
Purchase a copy of this book.
---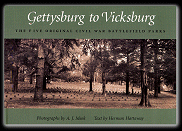 Gettysburg to Vicksburg: The Five Original Civil War Battlefield Parks
University of Missouri Press, 2001
150 duo toned black and white photographs of Gettysburg, Antietam, Shiloh, Vicksburg and Chickumauga. Photographs by A. J. Meek and text by Herman Hattaway.
Purchase a copy of this book.
---

Gardens of Louisiana: Places of Work and Wonder
Louisiana State University Press, 1997
167 color photographs depicting the private and public gardens of the state. Photographs by A. J. Meek and text by Suzanne Turner. Included are historical and contemporary gardens of Maison Chenal, L'Hermatage, Afton Villa, and Le Petit Versailles, the tragic lost garden of Valcour Aime.
Puchase a copy of "The Gardens of Louisiana : Places of..."
---

Red Pepper Paradise: Avery Island, Louisiana
Audubon Park Press, 1986
125 Color Photographs on the beauty and mystery of Avery Island. Photographs by A. J. Meek, text by Jo Gulledge. Included are: Tabasco Pepper Sauce Factory and People, International Salt Mine, Avery Island Village, and the Jungle Gardens.
---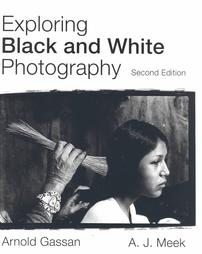 Exploring Black and White Photography
W.C.B Publisher, 1992.
Arnold Gassan and A. J. Meek, A text book on basic photography. Illustrations include historical and private photographs by the authors and students of Louisiana State University.
---