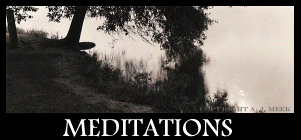 THE PHOTOGRAPHER'S COMMENTS
LECTIO DIVINA
Alfred Stieglitz photographed clouds from a hilltop near his family's retreat home located near Lake George in upstate New York. He wrote how he came to photograph clouds. He reported in an article that they were free for the taking and everyone had access to them. It was also during a time in his life of sorrow and death. A sister-in-law had died, the seventy-year-old coachman was taking care of the family's aging horse, and there seemed to be a gloom that settled over the family. Stieglitz responded by making some of the most spiritually derived photographs of our time. One cannot look at a photograph of a cloud and not think of his contribution to the subject matter and the metaphor he would call the equivalent. These small 4 x 5 contact prints were glued to the matte board and are in some danger of being lost because of his mounting technique. Nonetheless, these photographs were highly influential to photographers who came after--Edward Weston, Ansel Adams, Minor White, and Paul Caponigro, to name a few, all who photographed clouds.
There may come a time in your life when it is necessary for your survival to throw off the darkness and begin with fresh new beginnings. Since the early portion of the decade, when I was going through a serious mid-life crisis, I decided to photograph light on water. This dark period led me to practice a spiritual discipline through the Episcopal Church and the study of theology. The photographs made during this period I thought represented a kind of baptism. Recently my spiritual journey has led me to practice the art of centering prayer and lectio divina (reflection on Holy Scripture).
The mystic book, the Cloud of Unknowing, begins with a warning. At first I was afraid of the long periods of silence since I didn't know what kind of thoughts would enter my mind. I was also afraid of being bored. I am happy to report that I have experienced grace from the silence. I have grown more comfortable with my shadow side. Darkness has form but it pales by comparison to the light, both literally and figuratively. I have concluded that the mind's eye is the key to those holy places and that images are the gate in which to enter that space.
An essay by Frederick Bruckner titled "A Calling of Voices," from his book The Hungering Dark, has been influential. In it he says that there are two voices, the inner and the outer; both have to be there in order to make it happen. This is the co-creation between God and mankind. We have our free will to choose. Creation and miracles happen continually, only there is no human presence there to experience them. For someone to record the miracle of creation by writing or painting or photographing is a ministry in itself. This calling has energized my work.
The tool I have begun to work with is abstraction. Intellectually, I had understood the term in its place in history. I just had not understood its entire implications; the profound meaning of what it could be. Abstraction to me, in terms of photography, had meant an empty exercise in design. For the first time in these many years as a photographer I understand emotionally what the term means to me. Something wonderful, like clouds.
A. J. Meek
Return to "Meditations" Exhibit