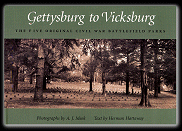 This exhibit features work for the book "Gettysburg to Vicksburg: The Five Original Civil War Battlefield Parks" These duo toned black and white photographs include scenes from Gettysburg, Antietam, Shiloh, Vicksburg and Chickumauga. The photographs are by A. J. Meek and text is written by Herman Hattaway.
Information on the photographs and captions in this book can be viewed by clicking here.
More information can be found on the Books page by clicking here.
To read A. J. Meek's comments on this work, click here.
Click on a photo to view a larger image
Gettysburg to Vicksburg:
The Five Original
Civil War Battlefield Parks

Photographs by A. J. Meek
Text by Herman Hattaway